iPhone Screenshots
iPad Screenshots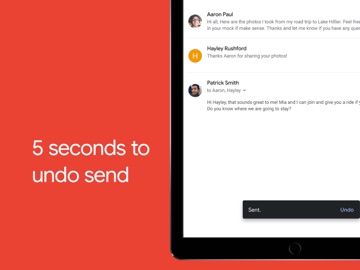 Description
The official Gmail app brings the best of Gmail to your iPhone or iPad with robust security, real-time notifications, multiple account support and search that works across all of your emails.
With the Gmail app, you can:
• Make Gmail your default email app on iOS
• Automatically block more than 99.9 per cent of spam, phishing, malware and dangerous links from ever reaching your inbox
• Undo send, to prevent embarrassing mistakes
• Turn on Google Chat to connect, create and collaborate with others
• Get more done as a group in Spaces – a dedicated place for organising people, topics and projects
• Enjoy high-quality video calling with Google Meet
• Respond to emails quickly with Smart Reply suggestions
• Switch between multiple accounts
• Be notified of new emails quickly, with notification centre, badge and lock screen options
• Search your emails faster with instant results, predictions as you type and spelling suggestions
• Organise your emails by labelling, starring, deleting and reporting spam
• Swipe to archive/delete, to quickly clear out your inbox
• Read your emails with threaded conversations
• Auto-complete contact names as you type from your Google contacts or your phone
• Respond to Google Calendar invitations straight from the app
Gmail is part of Google Workspace, allowing you and your team to easily connect, create and collaborate. You can:
• Connect with co-workers via Google Meet or Google Chat, send an invitation in Calendar, add an action to your task list and more without leaving Gmail
• Use suggested actions — such as Smart Reply, Smart Compose, grammar suggestions and nudges — to help you stay on top of work and take care of simple tasks, so you can be more efficient with your time
• Stay safe. Our machine-learning models block more than 99.9% of spam, phishing and malware from reaching our users
What's New in Version 6.0.221030
Bug fixes and performance improvements.
Information
Devices
iPhone 5s, iPhone 6, iPhone 6 Plus, iPhone 6s, iPhone 6s Plus, iPhone SE, iPhone 7, iPhone 7 Plus, iPhone 8, iPhone 8 Plus, iPhone X, iPhone XR, iPhone XS, iPhone XS Max, iPhone 11, iPhone 11 Pro, iPhone 11 Pro Max, iPhone SE (2nd generation), iPhone 12, iPhone 12 Pro, iPhone 12 Pro Max, iPhone 12 mini, iPhone 13, iPhone 13 Pro, iPhone 13 Pro Max, iPhone 13 mini, iPhone SE (3rd generation), iPhone 14, iPhone 14 Plus, iPhone 14 Pro, iPhone 14 Pro Max, iPad (5th Generation) Wi-Fi, iPad (5th Generation) Wi-Fi + Cellular, iPad (6th generation) Wi-Fi, iPad (6th generation) Wi-Fi + Cellular, iPad Pro, iPad Pro (Cellular), iPad Pro (9.7-inch), iPad Pro (9.7-inch) (Cellular), iPad Pro 12.9-inch (2nd generation), iPad Pro 12.9-inch (2nd generation) Wi-Fi + Cellular, iPad Pro (10.5-inch), iPad Pro (10.5-inch) Wi-Fi + Cellular, iPad Pro (11-inch), iPad Pro (11-inch) Wi-Fi + Cellular, iPad Pro 12.9-inch (3rd generation), iPad Pro 12.9-inch (3rd generation) Wi-Fi + Cellular, iPad Air, iPad Air (Cellular), iPad Air 2, iPad Air 2 (Cellular), iPad Air (3rd generation), iPad Air (3rd generation) Wi-Fi + Cellular, iPad mini Retina, iPad mini Retina (Cellular), iPad mini 3, iPad mini 3 (Cellular), iPad mini 4, iPad mini 4 (Cellular), iPad mini (5th Generation), iPad mini (5th Generation) Wi-Fi + Cellular, iPad (7th generation) Wi-Fi + Cellular, iPad Pro 11-inch (2nd generation), iPad Pro 11-inch (2nd generation) Wi-Fi + Cellular, iPad Pro 12.9-inch (4th generation), iPad Pro 12.9-inch (4th generation) Wi-Fi + Cellular, iPad Air (4th Generation) (Wi-Fi), iPad Air (4th Generation) (Wi-Fi + Cellular), iPad (8th generation) Wi-Fi, iPad (8th generation) Wi-Fi + Cellular, iPad Pro 11-inch (3rd generation), iPad Pro 11-inch (3rd generation) Wi-Fi + Cellular, iPad Pro 12.9-inch (5th Generation), iPad Pro 12.9-inch (5th Generation) Wi-Fi + Cellular, iPad (9th Generation), iPad (9th Generation) Wi-Fi + Cellular, iPad mini (6th Generation), iPad mini (6th Generation) Wi-Fi + Cellular, iPad Air (5th generation), iPad Air (5th generation) Wi-Fi + Cellular, iPad Pro11FourthGen, iPad Pro11FourthGenCellular, iPad ProSixthGen, iPad ProSixthGenCellular, iPad TenthGen, iPad TenthGenCellular, iPod touch (6th Generation), iPod touch (7th generation)
Languages
English, Afrikaans, Arabic, Basque, Bengali, Bulgarian, Catalan, Chinese, Croatian, Czech, Danish, Dutch, Estonian, Finnish, French, Galician, German, Greek, Gujarati, Hebrew, Hindi, Hungarian, Icelandic, Indonesian, Italian, Japanese, Kannada, Korean, Latvian, Lithuanian, Malay, Malayalam, Marathi, Norwegian Bokmål, Persian, Polish, Portuguese, Romanian, Russian, Serbian, Slovak, Slovenian, Spanish, Swahili, Swedish, Tamil, Telugu, Thai, Turkish, Ukrainian, Urdu, Vietnamese, Zulu
Nice
 – 
WHAT EVERY NAME IS TAKEN AAAAA
 – 
2022-11-16
Version 6.0.221030
Delete
 – 
kazzpea
 – 
2022-11-13
Version 6.0.221016
I can't delete a heap of files in one go , on my app !
This is so frustrating and annoying..
No notification
 – 
Seawah
 – 
2022-11-12
Version 6.0.221016
Same as other users' reports. After the update, there is no notification! Make sure the notification option is on. First time this happen, have been using this app for years.
Ads
 – 
shitservicecrapcompany
 – 
2022-11-10
Version 6.0.221016
Constantly spammed with ads that have been blocked and reported as spam
super
 – 
Anthonybeazy
 – 
2022-11-08
Version 6.0.221016
World Best App review from India mizoram
Don't waste your time
 – 
Jazz_AU
 – 
2022-11-06
Version 6.0.221016
Not getting any notifications for Gmail app.
 – 
Di2762hgd
 – 
2022-11-05
Version 6.0.221016
New update and suddenly I'm not getting any notifications for any of my email account from the Gmail app. Notifications are turned on in app settings and phone settings and still nothing!
!!
 – 
Leah Graves
 – 
2022-10-30
Version 6.0.221002
It's a very good app for emails but I emailed someone important, and I got a message back from them, but when I tried to tap it, it said I had to update gmail, and there was no updates that I could do?? I still haven't been able to see that email
Gmail
 – 
OfficeLifeLine
 – 
2022-10-27
Version 6.0.221002
Part of my communication life. User friendly and great to coordinate messages and tasks.
Great app
 – 
AHemetsberger
 – 
2022-10-25
Version 6.0.221002
Gmail has been great so far however recently I have not been able to open pdf documents. I gmailified another outlook account to gmail and that perhaps disturbed this function but not sure. Can this be rectified? Otherwise I am having to forward emails with pdf attachments to another email account to open the pdf.
Nah 💀💀
 – 
rizz ahh fool
 – 
2022-10-24
Version 6.0.221002
how u fools gon gate on Gmail dawg 💀
Great but…
 – 
Reb-rev
 – 
2022-10-24
Version 6.0.221002
Would be great to see an option in the widget to select 'All Inboxes' rather than just a specific mailbox
Ads
 – 
Mick 1234
 – 
2022-10-22
Version 6.0.221002
F'ers have started putting ads amongst our emails! I tolerated two at the top but this can f right off.
Select all
 – 
SwaggyMin93
 – 
2022-10-20
Version 6.0.221002
Gmail has been a great use to me throughout the years that I've had it. But one thing that Gmail lacks is the option to select all emails to delete them at once. Having to spend over an hour or so to scroll through every single email just to delete them becomes a hassle eventually.
Ads now mixed in with emails
 – 
Apie-ness
 – 
2022-10-17
Version 6.0.220918
Pretty unimpressed with ads mixed in with my emails. I recall when google added advertising to their free service, users were told it would be unobtrusive.
Select all needed
 – 
SarzS
 – 
2022-10-16
Version 6.0.220918
There needs to be a select all option. I only ever use the app on either iPad or iPhone and need to empty my social and promotions inbox but can't be bothered to select and delete just one at a time therefore my data is filling up.
iPhone Widget isn't working
 – 
richiehappie
 – 
2022-10-15
Version 6.0.220918
Even after I get new emails in my Inbox the widget fails to notify the number of new emails count. Always appears as 0
Organisational
 – 
beauteeeee
 – 
2022-10-12
Version 6.0.220918
Once you get your mail organised into folders or labels then you can enjoy All Inboxes knowing they are stored safely.
Gmail isn't updating
 – 
Nagermaryam
 – 
2022-10-12
Version 6.0.220918
I updated gmail but it doesn't update stays as the old version
Pls fix this bug
It's Gmail
 – 
the real drt
 – 
2022-10-06
Version 6.0.220918
Gmail
 – 
kopperrrrrrrrrrrrrrrrrrr
 – 
2022-09-27
Version 6.0.220904
Man this app is so good it keeps all my information safe and is the best email app ever
Good app, but notifications stop for no reason
 – 
Andygo86
 – 
2022-09-25
Version 6.0.220904
I really prefer this app to the native Mail app, but for some reason I stop getting notifications every couple of months. I've tried adjusting every setting possible. The only fix I've found to uninstall and reinstall.
Meh but pretty big problem
 – 
meow cats mewmew
 – 
2022-09-20
Version 6.0.220821
I find it ok but one big problem is that some files (especially videos) are "too large to send". A thing I think you could do about it is making it something like videos are a maximum of 2 minutes or something like that
👍
 – 
@Takuchris3
 – 
2022-09-20
Version 6.0.220821
Wouldn't recommend
 – 
Tahlsbb
 – 
2022-09-20
Version 6.0.220821
I'm quite disappointed actually, I was keen to use this app but now going back to using Outlook app because this one wouldn't give me notifications even thought my notifications were set to all new emails for both my accounts but yet would only receive emails from one.
Why am I stuck on the sign in screen?
 – 
LittleSilver
 – 
2022-09-17
Version 6.0.220821
This app is usually wonderful, but for the past couple of days I cannot get into my emails via the app.
It is on the 'Sign in' screen. If I tap on that, it takes me to my connected accounts which are all 'on'. I have switched my phone on and off and even deleted and reinstalled the app and yet nothing has changed.
I think there may be a bug, but it is making the app completely unusable.
Good
 – 
#bad reviews for everyone
 – 
2022-09-16
Version 6.0.220821
I have gmail on my phone and I really liked how you could select the chats and things. But it also took time getting to know how to use it
Rajesh
 – 
Molly GSD
 – 
2022-09-12
Version 6.0.220821
You can't select all unread emails.
Gmail is Tops
 – 
kaptain kaptain
 – 
2022-09-09
Version 6.0.220821
Gmail is the BEST , always updates …..Totally Satisfied 👍👍👍👍👍
Amazing
 – 
Maddy👗
 – 
2022-09-09
Version 6.0.220821
Good.
😊😊😊😊😊😊😊😊😊😊😊😊😊😊😊😊😊😊😊😊😊😊😊😊😊😊😊😊😊😊😊😊😊😊😊😊😊😊😊😊😊😊🙂🙂🙂🙂🙂🙂🙂🙂🙂🙂🙂🙂🙂🙂🙂🙂🙂🙂🙂🙂🙂🙂🙂🙂🙂🙂🙂🙂🙂🙂🙂🙂🙂🙂🙂🙂🙂🙂🙂🙂🙂🙂👍👍👍👍👍👍👍👍👍👍👍👍👍👍👍👍👍👍👍👍👍👍👍👍👍👍👍👍👍👍👍👍👍👍👍👍👍👍👍👍👍👍
Retirement Gmail
 – 
Jsmithdomain
 – 
2022-09-09
Version 6.0.220821
Since retiring my use of email has still been prolific for all the exciting new interests I have time for. Gmail is so easy to use and I have managed to create accounts for several of my older friends to use Gmail which they appreciate.
Pathetic changelog
 – 
Karlston
 – 
2022-09-08
Version 6.0.220821
Another update, another regurgitated "bug fixes and performance improvements" garbage changelog.
Are Google apps really so riddled with bugs and so slow running that this is actually all you do every single update?
How about a meaningful changelog, or is that too hard for this multi-billion dollar company?
4 stars for the app, -3 stars for the meaningless endlessly repeating changelog.
Signature issues
 – 
sedky118
 – 
2022-09-07
Version 6.0.220807
Fairly easy to use but the email signature is annoying me.
The only signature option puts it down the bottom of an email chain each time, not down the bottom of the email I've just written. Super annoying and unprofessional. Please fix this, Google!
Always opens links in inapp browser
 – 
Megaphat
 – 
2022-09-02
Version 6.0.220807
Please just open the links in the Safari app
Nothing is opening
 – 
s.t2022
 – 
2022-08-31
Version 6.0.220807
I'm using an iPhone and iPad and the app is really struggling to open anything I click on and it's been almost a week! I've tried every troubleshooting method, yet it still won't open anything and I can't even compose an email. I'm about to launch my business and this is going to be a nightmare.
Multiple inboxed
 – 
Alleyhec
 – 
2022-08-31
Version 6.0.220807
I wanted to start using google workspace but I need to have multiple email accounts in one space. Eg adding my bigpond account with its own onbox outbox etc. Also the google calender keeps glitching in my phone. Quite frustrating.
GMail Rev
 – 
Davion SHCmd.
 – 
2022-08-27
Version 6.0.220807
It's been highly informative n great detail of graphics and very useful n it helps a lot these days not like d old times 😉💪🍻💂🏼‍♂️🤏
Issue with multiple gmail ac
 – 
VSC64
 – 
2022-08-20
Version 6.0.220801
There's an issue when using multiple gmail accounts. It constantly shows all inboxes even if I click on top right and select the required gmail id. No way of separating the emails.
Lags scrolling down
 – 
Dicko82
 – 
2022-08-17
Version 6.0.220801
Lags really bad when reading an email on iPhone 13 Pro
Fix this and I will rate you a 4
Useless
 – 
E1morto
 – 
2022-08-16
Version 6.0.220801
Every time the app updates, it deletes my hotmail account. Unable to report this to the devs as google want you to use community forums. I posted this issue in the forums months ago and am still waiting for someone to figure it out. I'll be switching to outlook to avoid this issue, lack of support and be ad free
Gmail jittery when scrolling through contents
 – 
Hong12:)
 – 
2022-08-12
Version 6.0.220801
I just switched from Samsung to IPhone and I've noticed iOS gmail jitter quite badly when I'm scrolling through emails.
Select All As Read
 – 
Yasmin Kennedy
 – 
2022-08-11
Version 6.0.220801
Until you update your mobile app to allow to 'select all' unread emails as 'read', I'm not changing your rating. It's ridiculous that you haven't done it yet.
Need to allow all emails in sync settings
 – 
Real Friction
 – 
2022-08-04
Version 6.0.220730
I'd give this app 5 stars if it would allow us to sync all available emails in my inbox instead of a maximum of 90 days.
iPad needs better support
 – 
*iSub*
 – 
2022-07-31
Version 6.0.220730
On the iPad, this should be as full featured as the Chrome Browser experience. Unfortunately, it is paired back on par with the mobile phone experience
In- email scrolling has got rough / jerky
 – 
Don't update yet xx
 – 
2022-07-28
Version 6.0.220710
I'm on an iPhone 11 Pro. Been a while since I updated the app until today. The feel has gone backwards. Scrolls fine in inbox. Thanks
Thanks Darling
 – 
axxxnopt
 – 
2022-07-28
Version 6.0.220710
Notifications not consistent
 – 
jyc0919
 – 
2022-07-27
Version 6.0.220710
I don't receive some notifications but others I do, which causes me to miss emails. Also, some emails don't appear in my inbox sometimes but they're there when I use the desktop version on a computer.
Add in Focus Time mode
 – 
ppfiddy
 – 
2022-07-22
Version 6.0.220626
Google Calendar doesn't have the Focus Time function on app. Please add in!
Showing old emails
 – 
al3434
 – 
2022-07-21
Version 6.0.220626
Gmail shows old emails in your inbox when there is only 2 or 3 emails in inbox. Pls fix! Thanks
Hangouts v chat option
 – 
m 78
 – 
2022-07-16
Version 6.0.220626
Bring back the hangouts app as much easier to use for contact overseas has better timing as well rather than chat
Select All
 – 
Ngarunui
 – 
2022-06-24
Version 6.0.220530
Can you please add a select all option to the app? It's almost to the point of having RSI having to tap the emails I have to delete in group lots after being out of internet service and then coming back into a service area to then have to delete so many emails without the option of selecting all.
Other then that, great job, well done, amazing work google mail team, you're all fabulous! Have a great day where ever you are ;)
Doesn't sync properly and that annoying bunch up of emails....
 – 
maori83
 – 
2022-02-08
Version 6.0.220109
Firstly, it never syncs properly! I have a nice tidy filing system when I log in on the computer so the inbox itself is usually clear... but the files always remain in my inbox when using the app! Really annoying when you're OCD about filing!
The emails weird order is just annoying.. I can't make sense of the order and sometimes I have to wait until I get onto a computer as I can't reply to the latest email in the thread but some random one from the middle... Why? Is it that hard to just make it show the latest email up front and work backwards in a timeline order?
It's too hard to use properly... Theses bugs have been going on for years!
Snoozing
 – 
Flippnlorry
 – 
2021-11-29
Version 6.0.211101
I have GMail on an iPhone, iPad and PC.
I get a lot of email, and I often use snooze as part of how I organise items, such as diarising certain items for an office day, or a hobby day or whatever.
The whole idea of snoozing is often about moving an item out of the inbox as much as it is about re-diarising an item.
It is so annoying that snooze doesn't remove it from other devices. The item is shown on other devices in the primary box telling me it was snoozed (der.. that would be right I just did it!), and you then have to go through and use 'archive' to clear snoozed items from the inbox.
It is like GMail is device centric instead of being person centric.
The other thing that is annoying is how the interface diverges depending on what device you are using - you would think that something as simple as the 'send' button as just one example, would be in the same place no matter what device you are using. But it's not.
It's like there are different teams writing the app for the different operating systems without any overall interface standards.
Issues with attachments on work email account
 – 
Pondy@HS
 – 
2021-11-11
Version 6.0.211018
I can't for the life of me figure how to attach any actual documents to emails when using my work account on my iPhone. Works without any issues on my personal account, but as soon as I switch accounts I can only attach photos. It really shouldn't be this difficult. I've wasted hours trying to find an online solution, and the best I've found is that some settings must be changed on a computer. I've been happy with gmail preciously, but am now starting to look for other email solutions.
So poor detection
 – 
sooneday
 – 
2021-11-09
Version 6.0.211018
It is so not user friendly, and I could not open a link from the email body from the app, but could open from web browser. Please fix the issue kindly.
Thanks. I stopped using for almost 2 yrs as it will not re fresh my mailbox, always shows no internet but I can open browser. Not sure what went wrong, thought it will be working in new iPad Pro better, still has some basic user problem as I explained earlier.
hope it gets fixed and start to use the app again, otherwise have to long in all the time in browser.
Regards
SD
Please fix phone call bug
 – 
Rinaeleven
 – 
2021-10-04
Version 6.0.210905
Phone and video call doesn't work on the gmail app, but Hangouts is being discontinued. From the gmail app you can't seem to call a contact direct, and when you send a meeting invite the other person can't seem to join. Very frustrating as it's a good way to keep in contact with the kids when they're home schooling (as they don't have mobiles). We've had to revert to hangouts.
Good until security writting thing
 – 
Amy (Snow)
 – 
2021-09-04
Version 6.0.210809
I use gmail for everything and have multiple accounts already logged in i recently tried logging into one my accounts that i rarely use and cant get into it cause of the 'type the text' i type it perfectly and it refuses to let me in even after more then 5 attempts i even double check to make sure its correct the speech thing didnt work for me it was silent even after clicking the speaker button all that would happen was a blue bar. I should be able to get into my account in different ways if there needs to be a security thing if that 'type the text' doesnt work as in tended another option would be nice like the 'select ...' captures or something.
Not working
 – 
labp,uie
 – 
2021-08-27
Version 6.0.210725
Love Google and have had gmail account for years not too many issues, HOWEVER…… for some reason search function not working in gmail on iPad, works on phone, tried everything but still not working, not sure what has changed, is a function I use a lot of, now have to use safari which is not my first choice, Sent request still waiting, tried several google options but to no avail…Not Happy
"…………
Tried shutting down and deleting restarting ..sort of works but is spasmodic, not sure what is happening but is really annoying
Weird behaviours
 – 
f-hack
 – 
2021-07-29
Version 6.0.210627
The app is very basic on iPad, which if fine, but has a bug that is really annoying. Sometimes I select multiple emails and the action bar doesn't appear (to move or mark as read). The only way I found is to kill the app and open again. Then eventually it will happen again, and I have to repeat the procedure.
Also, it is really bad with an external keyboard, basically no support for it. It would be great if it worked similarly as the web version, where you can navigate, archive or move just with keyboard shortcuts. That would also provide a workaround for the bug mentioned before.
Keyboard fails to come up TO SEARCH. when not using Apple keyboard
 – 
JRiva
 – 
2021-06-27
Version 6.0.210530
Would be great to sort by sender or recipient but the keyboard issue is my main gripe. I'm using gboard which should work well since it's also Google's. I have Swype also (best keyboard when it was still live), that also does it so appears anything other than Apple keyboard causes three issue. Other Google apps work 👌
Compose works but not search.
Good app, but there's a bug with "mark as unread"
 – 
interplanet_janet
 – 
2021-06-21
Version 6.0.210530
I like this app, but there's an annoying bug that appeared a few updates back. I've just updated to the most recent version, and it's still there.
I always leave my app set to show unread messages. When I view a message for the first time, and then mark it as unread to keep it in view, it works fine. However, the second time and onward that I view the email and try again to mark it as unread, it doesn't work. I have to either do a keyword search or switch to the full inbox view and scan it for the message to again mark it as unread before it finally works. This really needs to be fixed.
Promotions tab not connecting on Gmail app for iPhone and iPad
 – 
Fiomic
 – 
2021-04-29
Version 6.0.210321
My Promotions tab has suddenly stopped working on the Gmail app on my iPhone and also iPad. I have updated both and still not working, also turned phone on and off. Pretty much done everything! It is working on the desktop version but not on the apps.
It doesn't really make any sense as all the other mailboxes are working perfectly, just the Promotions folder on both accounts says "not connecting." Please fix Google. Thank-you!
Buggy version
 – 
HyperOgga
 – 
2021-04-27
Version 6.0.210222
If you open an email then close it by clicking the 'mark as unread' icon it does not work and the email remains read. So annoying!! The workaround is you have to open it again and click the icon a second time for it to work. Such a fundamental feature broken.
Unable to mark email as unread
 – 
BulletAK
 – 
2021-03-13
Version 6.0.210207
After the app update, now: when a new email comes in, I open it and I mark it as unread, it switches back to the main screen and no longer keeps the email unread as some of the emails are important that I usually keep them unread for me to have a look at them later after having a first glance.
I again then have to open that read email again and mark it unread, only then it works. Not in the first instance when the email is opened. This wasn't used to be previously. Annoying!
No light mode option
 – 
Alex Ooi
 – 
2021-03-11
Version 6.0.210207
I have my phone in dark mode... but I want my emails in light mode because then I can see it the way it was actually sent without having gmail apply it's own broken dark mode adjustments to my email...
What's the harm in having a setting to force light mode for us users who have our phone in dark mode but want light mode for emails?!! What's the harm??? Please bring the option back!!!!
Unable to add photos glitch
 – 
Purtell
 – 
2020-11-26
Version 6.0.201101
Normally the gmail app is really good and always works. Just lately it has been frustrating because when you try to click any attachment to add it wont go to the next screen and your forever trying to select a photo. The only way to add a photo is by selecting it one by one through the photos app. If you also, try to do more than one photo through the photos app then it also is unable to complete the process. Other than that its a great app, if you guys could just fix this glitch
Learn the importance of visual language
 – 
poshlil
 – 
2020-11-22
Version 6.0.201101
The new icons are terrible - at a quick glance they all look the same, and it is very easy to click on the wrong one. Your designers would do well to understand the importance of visual iconography and context mapping. This is clearly the result of some overpaid execs trying to justify their existence, and it shows. Unification of a software suite does not mean every icon has to match, and your brand could have been streamlined without sacrificing usability.
Three stars for the fact that the app itself still works fine, though the number of times I've misclicked into maps (which sits next to my gmail icon) is frankly astounding.
Couple tweaks?
 – 
serena joy
 – 
2020-10-26
Version 6.0.201004
Would love to be able to change the app colour to whatever I want without having to use a widget app.
Also, filed and consolidated all my emails on my Mac that are linked to my gmail app and once I opened the app, none of that updated. Tried refreshing it, nothing happened so now I have to do it twice because the app won't update it? A bit annoying.
Still, Gmail is much easier to use than Apple's Mail app.
Paste URL hasn't worked for ages AND crashes reliably
 – 
ArtNouveau
 – 
2020-10-12
Version 6.0.200920
I have now confirmed with the developer of ICab that this Gmail app has a fundamental flaw.
The URL box of ICab uses Apple's engine. If I click the URL box and select "Copy", I can successfully copy the URL into the clipboard.
If I use gmail and paste that link into the body of my email (eg. A reply), nothing shows up.
If I then immediately switch to notes and paste, the URL appears. If I copy this same link from notes, I can then paste it to Gmail.
The Gmail app is not recognising the URL meta-tag.
Further, if you paste formatted text from a browser into your email, gmail is guaranteed to lock up .. you can't enter more text, can't rotate the screen, can't move the cursor, etc...
Gmail is BADLY broken!
Come on Google, how long does this take to fix?
Repeatability: 100% on IOS 12 and 13 and 14, multiple iPhones (eg. XS Max), etc. Bug has been there for at least 6 months.
Notifications, & Meet
 – 
R. Murison
 – 
2020-09-03
Version 6.0.200810
Firstly I have found a bug with your Notifications on my iPhone. If I see an email listed I obviously don't want and delete it straight away, the Notifications number often doesn't reduce (or go away). I think this is because I deleted it before my phone had time to fully recognise it. So I have to go to my deleted file and open the file (but leave it there) and the Notifications number is then updated.
Secondly, I am not interested in the Meet tab. Where is the option to remove this tab as I would prefer to have my extra line back. Gmail is for email. I don't want to have a conference call, I am a self funded retiree and don't want to have office meetings. You are just forcing me to take on your rubbish. This is as annoying as having unsolicited adds at the bottom of the screen that other apps sometimes have. Put the Meet option in the settings so I can flag it 'not' to appear.
Loses files
 – 
Never lost
 – 
2020-05-14
Version 6.0.200412
I have used gmail for a number of years and have no problem with the general operation for what I use it for. When I want to keep a series of emails and the attachments I create a folder and move the email into that folder. However on three occasions over the last 18 months I have gone to one of the folders to look at something and the file has been empty. Not only that folder but every folder has been cleaned out and I have lost everything I have saved. I am now having to look at alternative methods to save emails and the attachments. Some of the data I have lost has given me real problems. I don't want to go back to the old method of printing everything. How can this happen?
Extremely disappointed with Google services
 – 
You are making this hard
 – 
2020-04-30
Version 6.0.200324
This is the 4th Google app I have written a review for. Maps, Assistant, Google and now Gmail. Appears to be a trend.
Gmail only allows for you to upload and attach files that are located within Gmail or Google Drive. Requiring me to have duplicates of files from Google drive to my devices own storage. This isn't the case for images where I can directly upload an image from my device without having to go through google photos.
Could you please remedy this? I have found there are other complaints regarding this discrepancy that are over a year old.
App is not up to par
 – 
Wakanaru0110
 – 
2020-04-02
Version 6.0.200308
I love gmail on the desktop so it's a real shame the app functionality is just a basic replica. I run my business through gmail and my job doesn't allow me to be at me desk. Thought buying an iPad and downloading the app would help me keep up with my business needs but my business signature is not translated properly, I can't attach any forms via file search nor via google drive in PDF format (can only send a link), or you can attach a PDF file ONLY if it's been sent to you previously, I can't use canned responses...list goes on it's very frustrating. I'm feeling so technologically illiterate every time I use this app and sending wrong emails to clients that have attachments that are drive links instead of PDFs and looks unprofessional with my marred signature. Completely different interface and user experience compared to desktop version.
No response since IOS 13 released
 – 
jieweijin
 – 
2020-02-14
Version 6.0.200112
I used to rely on gmail app a lot coz my personal email and company emails are all gmails. However, since IOS 13 upgrade, my app stopped working each time I attempt to open the gmail app. It just doesn't respond at all and stuck on the page no matter how I slide on the screen. I close the app and open again it still doesn't work. Only way to make it work is to switch my iPhone 7 off and restart. It then works for the first day ad return back to "normal" again as no response. The notification is working tho. Very strange. Now I can only use gmail by opening my account on web page and it asked me to install the app each time I login, which is very annoying. I wish I could use the app version.
Piece of rubbish. Either fix it or I'll stop using gmails and turn to Microsoft mail system
Still looking for the perfect email app
 – 
makdizzl3
 – 
2020-02-11
Version 6.0.200112
After my old favourite email app broke in a new update I'm looking for a solid replacement. A quick search said Gmail is a solid #1.
I don't see how!! After testing it for a day it's not worth a spot in top tier. It auto zooms messages without letting you zoom out and no setting for it! Had to 'forward' messages to read and the Signitures are broken, And notifications fail to tell you that you have received email and have to manually refresh in the app to get updated!
moving my accounts elsewhere in hope!
Works as it should for my use, but where is Dark Mode?
 – 
unScript3d
 – 
2020-01-30
Version 6.0.200112
So far my experience with the app has been fine. My general use is receiving emails, which it does perfectly. Had never had an issue with opening attachments or the like.
However, for me, where this app falls is with it's lack of Dark Mode. I like to go through my emails either first thing in the morning or of a night, and it can be quite harsh coming from a DM app.
Lack of Dark Mode support seems to be a common theme among Google apps and it is definitely something that needs to be addressed and updated.
Remove ads
 – 
deltaphox
 – 
2020-01-03
Version 6.0.191117
I used to have Gmail as my primary email app until I became bombarded with advertisements. Granted though, you can delete the ads in the app, but this isn't a permanent solution. There should be an option to remove ads within the settings as these ads become very distracting over time. I would also love an option to disable the bundling feature, because just even one email is bundled into a category; I can understand this system for multiple emails of the same category, but not individual ones. These minor problems keep me from having Gmail as my email client. Also where is dark mode??
Gmail App won't send long emails in iPhone 11 with latest iOS
 – 
Usually a Google Fan
 – 
2019-12-31
Version 6.0.191117
Since IPhone 10-11 and maybe due to new IOS, longer emails don't send immediately and the blue line around the App goes round and round until the phone is turned off and rebooted then the email sends immediately. I guess I'll need to delete and re-install the App (resetting all passwords a hassle for me!). Please fix it!!!
Fabulous app, however there's a few minor bugs
 – 
leah hopcroft
 – 
2019-12-13
Version 6.0.191117
I have been using the Gmail app for as long as I can remember, and it is absolutely great. I could never switch to another E-mail service provider, because Gmail is just perfect for me.
However, yesterday I noticed a small bug when I tried to reply to emails. I would click the reply button and begin typing, but after typing only a few words, it would begin to lag, and the keyboard would eventually disappear and I couldn't type anything.
I tried closing the app and opening it again, and I tried turning my phone off and on again, but it still didn't work.
As there were no updates for the Gmail app, I decided to delete and then reinstall the app.
I tried to reply to the email again, however, this time, the keyboard won't appear at all.
This only seems to be an issue on the Gmail app, because I can use it on my laptop perfectly fine.
Apart from this, the Gmail app is amazing, and I've never had any other issues with it over all the years I have used it
Great app but can you look into this
 – 
missfanuo
 – 
2019-11-20
Version 6.0.191023
Been using the app for years and it's been great. One thing always baffles me is that I can't seem to search emails in the folder I just clicked on, so it always defaults back to 'all mails' when I search and I have to manually type in the name of the folder first to make sure it's only searching in that folder. Any chance you could improve that functionality by not requiring a manual input?? That would make search much easier. Unless I missed something obvious. Thanks.
Heart is there, but it's fading fast
 – 
dsnineteen
 – 
2019-11-13
Version 6.0.191006
I really, really, really want to like Gmail for iOS. I do. My employer uses the commercial G Suite for our email and cloud services and broadly speaking it runs well.
But there are a few rudimentary functions that are just.. lacking.
-Attachments. Guys. Come on. 2019, still can't attach a file directly, or select a Drive file to be sent as a discrete file instead of a Drive link.
-Signature insertion. Again, Google - this isn't hard. Put it in above the quoted text, and below the new message. It works in the web client so why is it still bugged here?
-Split View (and this is my dealbreaker) is a brilliant iPad feature that has been around for literally YEARS. Tablet screens are getting bigger and yet I'm forced to burn all that real estate on firing white pixels while I frantically tab between apps because I can't split the screen in the native Gmail app. I moved my personal email into Outlook because of missing features at the time (now since added to Gmail, so thanks guys), but I'm exploring Airmail or other apps now to do the same with my work comms.
If you're a 'domestic' iPad user the Gmail app is probably fine for you, and does have plenty of features. But if you're using your tablet professionally or consider yourself a power user, be ready for frustration.
Annoyed
 – 
Asha7234
 – 
2019-10-26
Version 6.0.190822
I'd like to start by saying gmail needs a few improvements. They need to make it so that we can mark all our emails as read so that we don't have thousands of emails that we haven't read because they are promotions or social that we don't want to see or deal with and it's just generally annoying having the notification there. Someone might suggest to just turn notifications off but I need my notifications on when important emails come through and I need to reply to them straightaway or see what they say because I can't just keep checking the app I need to have the notification. They also need to rearrange their app and make it more user friendly it's too confusing
Stop pushing me to download Chrome
 – 
Matt346
 – 
2019-04-27
Version 6.0.190407
I'd probably give this app four stars otherwise, as it works fine, except for the infuriating message that comes up every time you click on a link to an external website, asking you if you want to use Safari or Chrome to open it. This wouldn't be so bad except that if you deselect the switch saying "Ask me every time" it makes no difference. Why bother having a switch there if you're not going to honour what you set it to? I'm sure this is deliberate and not a bug. Google, stop trying to push your own browser on me so you can collect more data. I'm not interested. At least fix the switch so if you want to use Safari every time, you can without that message coming up. I've switched to another mail app because of this "feature"
Dated way to use email
 – 
GregAndo
 – 
2019-04-04
Version 6.0.190309
After using Google Inbox, being forced to return to GMail is slated stressful step backwards that makes me question whether Google email systems are really still best of breed. The lack of features is astonishing, even for simple things I took for granted - segmentation of e-mail from today, yesterday and this month, inline pictures, inline email view and edit, bundling, profile pictures beside emails, tick and flick of large numbers of bundles of emails at once...it really feels like a dated, legacy way to do mail. Uninstalling, will try Spark instead. First step away from GApps has begun...I can't believe how integral Google Inbox was to my enjoyment of their ecosystem.
Broken and not worth your time
 – 
FxckOffCxnt
 – 
2019-03-28
Version 6.0.190309
I previously had all of my emails set up on this, and out of nowhere, all of the "@outlook" ones got removed. So I tried adding them back. Immediately I was met with a question, "Would you like to try Gmailify", which I answered no, but it wouldn't let me pass. Tried everything, restarting, updating, and it just wouldn't let me. So after being forced to answer yes, I had to resign in and after that, I also hit another barrier; it wouldn't let me continue after choosing to receive my Outlook account's emails on my one of my Gmail accounts. So now I've wasted my time and effort only to be unable to use this app for its sole purpose. Switching to another mail service, I suggest you do too.
Needs basic improvements
 – 
christrue
 – 
2019-02-06
Version 5.0.190113
Google, when are you going to allow an image to be included in the signature? This is essential for anyone using the app in a business manner.
And also allowing to connect to iCloud files when attaching?
And button to 'move to' across the top of the main body of an email without having to hit the three dots then choose (like you have on your web based gmail), there's space and it would save a click.
Please update all the above soon!! I don't want to have to keep using the Apple mail app!!
Can't attach anything
 – 
zed_bb6
 – 
2019-01-15
Version 5.0.181230
It bothers me a lot that in order to attach a file to my email I have to find a computer or possibly go to another application which allows me to attach files from my mobile's storage directly.
It has happened several times that I am actually in a hurry and have to attach some files and send some documents over, but due to Gmail's inability to upload a file without it being in google drive slowed me down.
This is one of the apps that I use the most, and will keep on using, just would like to see the option of being able to attach files from my device.
Fantastic Application !
 – 
anasxcm
 – 
2018-12-14
Version 5.0.181119
I've been using the gmail app on my iOS device for years and frankly it's one the most amazing email apps I've used to date, even more so than the vanilla mail app on the iPhone. The bundling system helps keep my emails organised as I'm so used to it now I can predict which category my emails are being bundled into. I do however have one request. Being a user of several mail applications and accounts for both work and personal use, id like to see the developers introduce a method to name and perhaps add profile photos to the non-gmail accounts. If there is however a pre existing method to do so please let me know.
Signature block
 – 
Taleen76
 – 
2018-11-22
Version 5.0.181021
This is a great app except that the business version used to automatically insert my company's signature block at the bottom of each email. This was very convenient when I was on the road and not in front of my computer. Now it doesn't have that functionality- I don't know why nor how to reinsert it. Please let me know if it's available or reinstall it as a feature if it's not. I'm paying $$$ to have my business account through this and it is an essential feature for looking professional to clients.
Can't attach files
 – 
dmac09876
 – 
2018-09-26
Version 5.0.180909
It's pretty irritating that I have to use another email app just to attach files properly. Gmail only allows you to attach a link to a file in google drive, which isn't acknowledged by most email support systems. It's also irritating having to change the permissions of files in google drive to be accessible by anyone with the link because not everyone has a gmail account.
You can't even attach files from local files, iCloud, Dropbox or any other cloud storage. And yeah, I'm aware you can go to the file on iCloud and share via email, but that doesn't allow you to reply to an existing email or send multiple attachments.
Pretty crappy experience for the most basic of email functions.
The main reason I continue to use the app as my primary personal email client is that it sorts my incoming email into three folders very well and this is consistent with the gmail web version (which isn't the case when you use a third party app, like spark).
Insert signature before quoted text and remove "—"
 – 
Kramanator
 – 
2018-08-23
Version 5.0.180729
I love that Google has finally given us the ability to turn conversation view off, like we have been able to in the desktop version of Gmail. Having the ability to use our web signature is a must for me for work, however not having it follow my web setting of inserting it before quoted text is a deal breaker, as it looks like I don't have a signature at all, until you scroll down and see them all collected at the bottom.
When this is fixed, I can finally use the Gmail app for my work email.
Great MUA but flawed implementation in iPhone
 – 
BigOzDave
 – 
2018-08-11
Version 5.0.180715
I have been using GMAIL on multiple platforms for at least 15 years. It is one of my favourite mail user agents (MUA).
There are many features in the desktop application that have failed to be included in the iPhone application, including font selections and formatting options.
Some bugs remain unfixed. For example, using the DELETE key while editing a reply often causes the editing function to freeze. You can not edit or compose any reply until you force quit and restart. Makes gmail kind of pointless, or at least incredibly irritating.
Email stuffing up
 – 
apeosdjfntczuslvraonf
 – 
2018-06-01
Version 5.0.180506
I've been using gmail for quite a long time now, but there is this one reoccurring issue that just keeps popping up and I don't know why.
Every 2 months or so, my whole account stops getting emails through gmail. No matter how much I delete and reinstall the app my email doesn't receive any emails. This goes on for at least 1 week or so. And then all of a sudden I start receiving emails again.
This has to stop happening as I need to receive these emails for work and other things. Please get this sorted as soon as possible :)
Thoughts on Gmail App
 – 
Xjardan
 – 
2018-04-22
Version 5.0.180408
I have only started using this app 2weeks ago, so this particular review is just thoughts on the setup and ease of use for beginner users. When I have used it for a decent length, I will submit another review.
Firstly, I personally found the setup to be a little confusing and lengthy. I do understand that the app has a 'How-to-Use' section as part of the setup, which is a positive addition, however, I haven't even began to use the tutorial as I just want to use this app as a quick way to use a simple and basic email function. I think this criticism is more of a reflection of myself rather than the app itself.
The way that I am able to categorise my emails is fairly simple and easy. I like the way I can log in to different accounts quickly and easily- that is a great tool.
So far, I am still going to use this app and I assume that over time I will see more of the unique benefits that it offers, and will give a more in-depth review then.
Insert this signature before quoted text in replies and remove the "--" line that precedes it.
 – 
AB2877
 – 
2018-04-10
Version 5.0.180325
I currently use Gmail for my personal and work email. The web-based version on my desktop is excellent and I have no complaints. When I downloaded the Gmail mobile app for my Iphone 7 & iPad everything seemed to be perfect until I noticed that my signature was ending up at the bottom of the email chain ( I stopped this on the web side by selecting Insert this signature before quoted text in replies and remove the "--" line that precedes it.
My question is, when is Google going to fix this signature issue on Gmail app. Is there a way to have my signature inserted before the quoted text in my Gmail mobile app? It doesn't look professional when I write an email without a signature right after saying "thanks, or sincerely" as there is no signature after that.
Grant
 – 
Wobna
 – 
2018-01-13
Version 5.0.171120
I was using the Apple app for three years then I got a message saying because I have Gmail that I was using the wrong app then I bought a security camera and I switched back to the Apple app and I wasn't getting my messages I wasn't then I worked out that it was because I switched off the Google app which is much faster than the Apple app which comes with the iPhone
Excellent App
 – 
Smitro
 – 
2017-12-12
Version 5.0.171119
This is a great App, and I now use it instead of the mail app. I have a feature request. I use multiple mail accounts, It would be good if I could have a different notification sound for each account. This way I know how important the notification is depending on which email account it has been sent to.
Otherwise, very easy to use!
Great app - needs iOS11 Optimisation
 – 
wakatom
 – 
2017-11-17
Version 5.0.171020
I use this app for work all day every day, and it works great, there are a few things that, now iOS11 is here, could be better to increase productivity.
- split view support: you cant use this app in split view, and its quite frustrating as i have my calendar or browser open at the same time and it would be fantastic to use split view.
- mobile signature: I use a dynamic signature for work which includes images and hyper links, when you use the app you cannot set this up, you need to have done it on a computer first.
Apart from that, its great!
Notification issues
 – 
Sharpdeath1
 – 
2017-11-11
Version 5.0.170925
On my iPhone, gmail used to have the little red one and two over the icon. Now it has gone up to ~400 plus however many new emails are in my primary inbox. I don't know why gmail has started to include my promotions/socials in the notification count but if I go into the app and then check the new ones I receive, it goes away (generally). As someone who likes a clean screen, this is quite annoying for me...
Love The App! Push Notification Problem in iOS11
 – 
Brad90
 – 
2017-10-01
Version 5.0.170910
I've used the Gmail App for ages and think it's awesome. In the update to iOS 11 something has broken and Push Notifications come up but don't go away when you've viewed the email. I followed some steps online which involved deleting the App, doing a soft reset and re-installing which worked for about 1 Day and then the problem happened again. Would love to get this fixed as having good lingering notifications on my home screen is starting to do my head in. Thanks for the great work!